CAPTAIN THOMAS SANKARA
A film by Christophe Cupelin
Documentary • Switzerland • 2014 • 90 minutes • French w English subtitles


A portrait composed of archives of Thomas Sankara, president of Burkina Faso between 1983 and his murder in 1987.

Ready to liberate his country and transform the mentalities of his fellow citizens, contesting the world's political order and challenging the powers of his time, Sankara stands out strongly in the history both of Africa and of the world.
PRESS REVIEW
The Age of Reason:
The 7th Edition of the Festival International du documentaire d'Agadir
FIDADOC May 4-9, 2015
Framework, The Journal of Cinema and Media, Sally Shafto, June 2015
"Thomas Sankara's spirit shines at Burkina Faso film festival"
theguardian.com
, Oris Aigbokhaevbolo, 10 March 2015
"This important documentary should not be missed"
Lenews.ch
, Neptune, 13 September 2014
« Christophe Cupelin talked to the Herald about
the making of his noteworthy opera prima »
Buenos Aires Herald, Pablo Suárez, 24 October 2012
"An uncommitted film"
Press News Africa, Pascal Gibert, 16 September 2012

"Visions du Réel Festival : Sankara for president !"
Télérama, François Ekchajzer, 22 April 2012





THOMAS SANKARA & NEWS :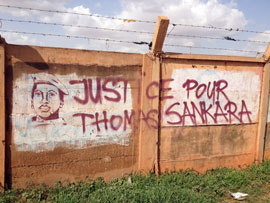 ---------------------------------------------------

• Burkinabe ex-President Compaore charged in Thomas Sankara murder
aljazeera.com, April 13 2021
---------------------------------------------------
• Thomas Sankara : Man of Integrityafrika-news.com, Ynug Anabel, April 26, 2017
---------------------------------------------------
• Burkina Faso Begins Exhumation Of Thomas Sankara's Grave Nearly 30 Years After His Death
tbtimes.com, Aditya Tejas, May 26 2015
---------------------------------------------------
• Thomas Sankara remains: Burkina Faso begins exhumation
bbc.com, 25 May 2015
---------------------------------------------------
• "We want the truth!" Burkina Faso exhumes graves marked for ex-leader Sankara, his followers
usnews.com, BRAHIMA OUEDRAOGO, Associated Press May 25, 2015
---------------------------------------------------
• Burkina Faso opens graves to answer questions about Thomas Sankara
theguardian.com, Associated Press, 25 May 2015
---------------------------------------------------
• "Burkina Faso's revolutionary hero Thomas Sankara to be exhumed"
theguardian, 6 March 2015
---------------------------------------------------
• "Citizens' Revolt in Burkina Faso"
african-futures, Ernest Harsch, December 9, 2014
---------------------------------------------------
• "Burkina Faso profile"
BBC.com, 2 November 2014
---------------------------------------------------
• "Power struggle in Burkina Faso after Blaise Compaoré resigns as president"
The Guardian, David Smith, 1 November 2014
---------------------------------------------------
• Burying Africa's hopes: remembering Thomas Sankara, the revolution and how Blaise Compaoré stole it all
Joan Baxter, November 1, 2014
---------------------------------------------------
• "Burkina army imposes interim government after crowd burns parliament"
Reuters.com, Mathieu Bonkoungou & Joe Penney, 30 October 2014
---------------------------------------------------
• "Burkina Faso: A Thousand Sankaras Come of Age"
thinkafricapress.com, Brian Peterson, 15 August 2014
---------------------------------------------------
• "Thomas Sankara"
Britannica.com, Carina Ray, 12 December 2013
---------------------------------------------------
• "Thomas Sankara And The Assassination of Africa's Memory"
saharareporters.com, Chika Ezeanya, 15 October 2013
---------------------------------------------------
• "Who killed Thomas Sankara?"
africasacountry.com, Shamira Muhammad, 14 March 2013
---------------------------------------------------
• "25 Years On: The Mixed Legacy of Burkina Faso's Thomas Sankara, Socialist Soldier"
thinkafricapress.com, Peter Dörrie, 15 October 2012
---------------------------------------------------
• "Sankara's Tomb Vandalised In Burkina Faso Capital"
AFP, 29 July 2011
---------------------------------------------------